Ruler
The Ruler is designed to provide overview about drawing measure. You can view measure in various predefined units as centimetres, millimetres, inches, plotter units or HP-GL user units. In addition you can define custom units and their scale.
The ruler consists from three parts - horizontal ruler, vertical ruler and unit pane (see the sample below).
The unit pane displays name (label) of the just used unit. Its context menu provides a quick access to the predefined and custom units. Left mouse double-click on this pane calls directly the Define custom unit dialog.
To configure ruler, use the context menu called by a right mouse click in ruler. You can also change here the ruler origin.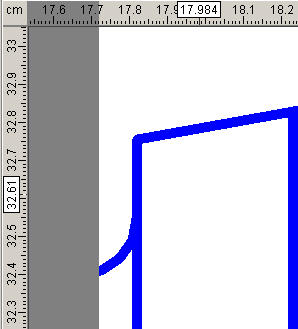 Ruler sample