File Explorer
The embedded file explorer in SPLOT enables a comfortable and instant access to the desired plot or PDF files.
With the explorer you can mainly open a desired file to display it, and you can do additional file and folder oriented tasks, as copying, moving, deleting, renaming etc. by the same way as with the standard Windows file explorer including drag & drop operations.
The another important feature of the SPLOT explorer is possibility to start a batch operation on the selected file(s) or folder(s). To do this, open a context popup menu on the selected item(s) by a right mouse button click and select a desired batch operation type. You can use also a special batch-toolbar located in the explorer.
The Virtual Folders feature allows you to manage and use custom file lists as folders.
The Favorites feature allows you to store and access your favorite files and folders.
For list of available explorer options see the Explorer Options topic.
To get more help about individual items of the Explorer click on a desired item: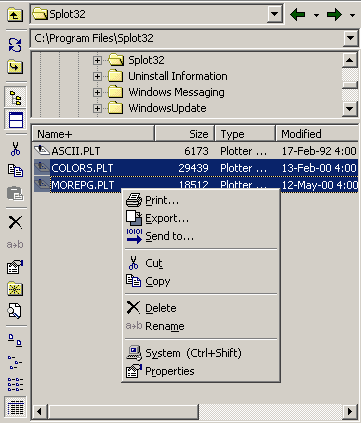 File Explorer in SPLOT (sample)